Hedge Insite offers you many benefits, such as:

"Forward vision" displayed in an easy-to-read graph to know how your sales and purchasing decisions are impacting yearly results
Stressing tools to predict your risk exposure to changing conditions (e.g. NYMEX, weather, sales programs, supply options )
Immediate access to mission critical information not available in your accounting and financial systems
A validation tool to evaluate purchasing decisions best suited to your margin goals and risk tolerances
Centralized data and analysis features that replace independent and disparate spreadsheets
What do our subscribers get?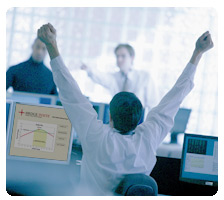 Hedge Insite is an automated risk management tool to organize and track all buy/sell commitments for petroleum marketers, especially in the home heating business.
This web-based product (SaaS) assists management, with a centralized easy-to-access location, to track all buy/sell positions on a month-to-month basis and to assure balances are in keeping with corporate expectations. It also enables management to test (through a "stressing" calculator) the impact changing markets (up or down) would have on the company's gross margins relating to each line of business (pre-buys, contracts, rack, commercial, wholesale, etc.). 
Daily results can be compared to budgets for everyday decision making-eliminating guess work.
 Disciplined use of this tool should improve the likelihood of achieving target margins and reduce the risks inherent to the commodity influences in the petroleum market.
Hedge Insite is also used for:
•      Forecasting (setting plans and proactively tracking results)
•      Progress reporting (removing the guesswork associated with unfulfilled sales/purchase commitments)
•      Testing P&L expectations (enabling you to steer a course to your desired goal)
•      Hedging strategies (defining and tracking all commitments as markets change)
•      Risk management (maintaining within your tolerance limits)
•      Auditing purchase and sale activities (empowering you to identify what's successful and what needs change)